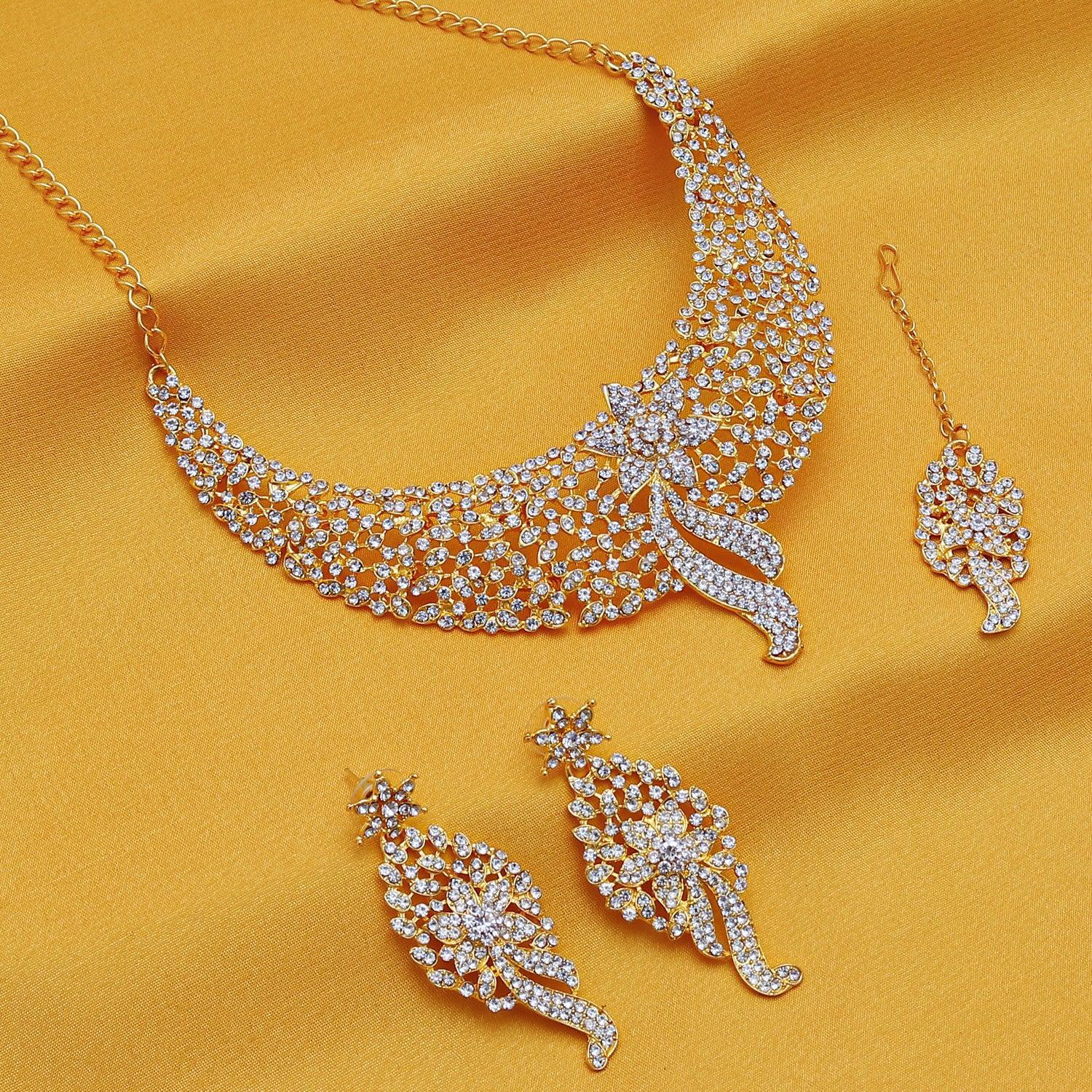 Maharashtrian necklaces are the epitome of elegance and the culture of Maharashtra in jewelry. 
Without a necklace, also known as "haar," Maharashtrian artificial jewellery is considered incomplete. 
These necklaces offer your appearance a very classic and expensive aspect. They are inspired by temple south indian jewellery designs.
What differentiates Maharashtra's artificial jewellery? : Necklaces Design
Because of its brilliant color schemes and unique cultural motifs, ethnic necklace from Maharashtra stand out from other necklaces. Red and green gemstones and jewels with pearls are widely employed, and the designs are typically composed of real or plated-gold. Jewellers from the medieval Peshwa dynasty had an effect on the designs of the popular Maharashtrian bridal artificial jewellery. The majority of an artificial necklace in Maharashtra are created in Kolhapur and have a variety of styles depending on their purpose and setting.
 Thushi artificial jewellery
One necklace, the Thushi Haar, is made out of a stunning blend of pearls, gemstones, and gold or golden metal. It is often a short necklace in the choker style that looks good with both casual attire and classic churidars. You can buy thushi haars based on your demands; they come in a huge variety of patterns. With the adjustable Doris or the supplied threads, you can change the length. They weigh little and are lightweight.
Rani Haar
These Maharashtrian ethnic necklace set designs, as the name implies, are modeled after ancient necklaces worn by queens or ranis. They often come in 2 or 3 strings and are covered in a weaving of pearls and golden pendants. They look quite opulent and regal when worn as standalone necklaces. They are ideal for wedding-related events. In contrast to Rani Haars, Panchlada or Satlada haars have five or seven strings in a single necklace that is the same length as a Rani Haar. The bride will probably have her belly touched, as is traditional for a Rani Haar. The pendant on the shortest string might be large, whereas the pendants on the longer strings might all be of the same size.
Moti Haar
Since many years ago, traditional Maharashtrian pearl ethnic jewellery set designs have enjoyed great popularity among women. This piece stands out due to the use of pearls and the two tiny pendants on either side of the primary pendant, both crafted from platinum or golden metal. Usually, red, emerald, or pink stones are inlaid into these pendants, giving them a vibrant, vivid appearance. They have a dori that can be adjusted.
Chapla Haar
A necklace called a Chapla Haar is a type of imitation jewellery set popular in Maharashtra that features intricate designs like Laxmi sculptures, hand-carved putlis, or tiny circles with engravings connected to create the appearance of a chain. They are easier to handle because they are lightweight and smaller.
Chinchpeti haar
Chinchpeti haar, a choker-style Maharashtrian jewellery, is comprised of exquisite pearls, gold, and stones. It can hold one or more pendants and looks absolutely stunning when coupled with conventional one-pieces.
Kolhapuri Saaj
Kolhapur is comparable to a center for Maharashtrian jewellery. There are 21 Javs beads and 21 different types of leaf-shaped designs on the choker Kolhapuri Saaj. In the middle of it is a pendant with a red stone (Ruby). Preferably, it is made of the Dorla thread, which is thought to shield women from evil gazes.
Read More –  10 Reasons That Tell Dual Tone Necklace Set A Must Have For You
Bakuli Haar
The necklace is designed to look like a bunch of small golden flowers because the word "Bakuli" signifies "something that blossoms." They look to be rather delicate and subtle, and they offer your outfit a fashionable yet ethnic appeal. These Bakuli haars come in sets of two or three.
These Maharashtrian necklace designs are typically made with an adjustable dori or thread, making them functionally versatile. You can make changes to suit your attire and the situation. Just like these actors, you can combine these long and short necklaces for brides and wedding-related occasions. Shop from Swarajshop now, they are the leading artificial jewellery shop  in the online market !!!